Tribute to Hyperhero
As Hyperhero being the greatest superhero of all times who saved mankind very often from doom, it is not inadiquate that the grateful mankind does render homage to him.
This can be done for example by sending messages to him, by reciting the Hyperhero-poem or by baking Hyperhero-cookies.
If you have a homepage at your disposal, the adding of a link to the Hyperhero homepage would be considered as a very appreciated form of ovation.
Navigation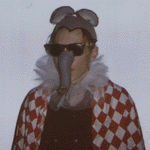 Hyperhero