Hyperhero's Work Camp

You can serve Hyperhero, the saver of the universe, by working in a Hyperhero labour camp.
It is your own decicion when and for how long you enlist to a Hyperhero work camp. Each period of time from some days up to several years is possible.
The perfect vacation
If you do not yet know where to spend your next holidays or where to put away your children during their school holidays, then a Hyperhero work camp is your perfect solution.
And doing hard labour for Hyperhero is at least much better than lying in the sunlight on the beach.
For free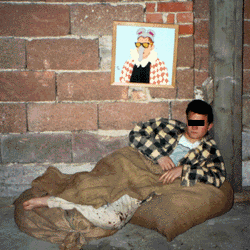 You must only look after the journey to the labour camp and back home, but while staying in the labour camp, Hyperhero will give you very detailed orders what to do, so that you will not have to worry about anything yourself.
During the time in the work camp you will get food and beverages as well as a primitive accomodation for free.
And the best thing is: You do not have to pay anything for being allowed to work your fingers to the bone for Hyperhero, it is completely for free.
Diverse Tasks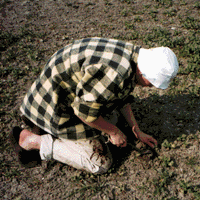 The great Hyperhero will tell you which interesting slavish work you are allowed to do as e.g. chopping up stones, cutting wood or raking on agricultural areas and so on.
Luggage
Please take the normal luggage (durable clothes, tooth brush, ...) with you to Work Camp Hyperhero.
You may also take bedding or a sleeping-bag with you, if you want to do so, but it is not necessary.
Journey to the work camp
There are several Hyperhero labour camps but till now, all of them are near München (Munich) in Germany in Europe. They can easily be reached by car as well as with public transportation (train and busses). All work camps are within the area in which MVV-Tickets are valid.
After enlisting, you will get a detailed road map to the labour camp to which the great Hyperhero will have assigned you.
Enlisting
The best thing would be for you to enlist now to a Hyperhero work camp.
For enlistings, or if you have any further questions, please contact Hyperhero.